EcoFlow 220W Portable Folding Bifacial Solar Panel
---
Harness Maximum Solar Power with EcoFlow 220W Bifacial Portable Folding Solar Panel
Stay off the grid with the EcoFlow 220W Bifacial Portable Folding Solar Panel, designed to provide abundant energy for your EcoFlow RIVER or DELTA Portable Power Stations. Utilizing efficient monocrystalline silicon cells, this solar panel ensures a rapid recharge for your portable power stations and electronic devices, keeping your equipment running seamlessly during your outdoor adventures.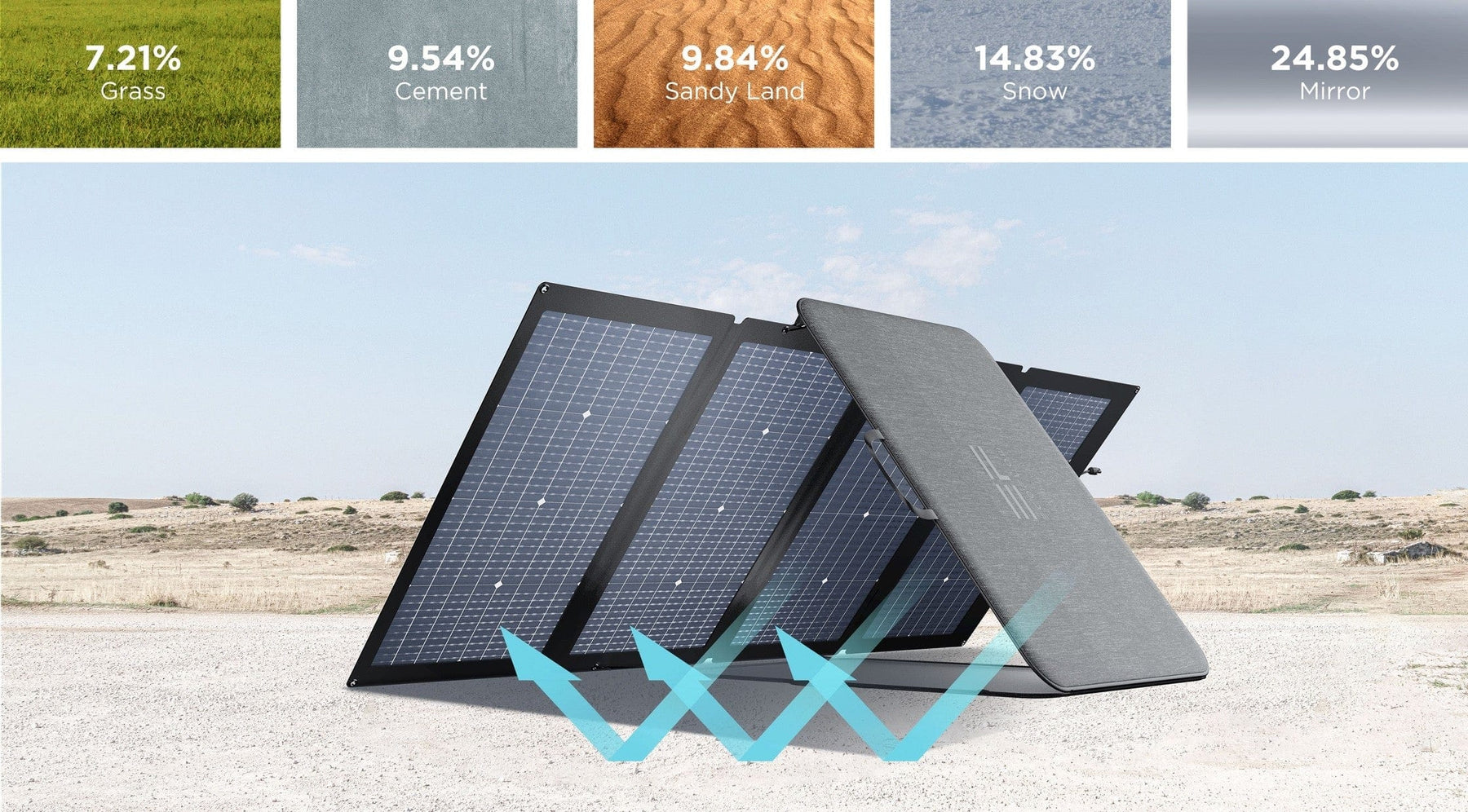 Key Features:
Two in One Efficiency: EcoFlow 220W Bifacial Portable Solar Panel features a dual-purpose design, with a 220W primary surface and an additional 155W surface on the back for ambient light. Capture up to 25% more solar energy, and with a mirrored surface, achieve up to 80% more energy for faster charging.

Tempered Glass, Built to Last: The thin, one-piece tempered glass design enhances durability, making it five times tougher than comparable panels. Withstanding heat up to 150°C, this solar panel is built for long-lasting performance.

Compact and Portable: With a compact design that is 10% smaller than comparable 220W panels, it saves space with thinner tempered glass. The included carry case ensures easy portability, allowing you to take it anywhere. Unfold it at your destination, and use the kickstand to maximize sun exposure.

Durable, Dust & Water Resistant: Dust and water-resistant construction with an IP68 waterproof rating ensures the solar panel endures various weather conditions, making it ideal for camping, traveling, and outdoor activities.

Free 2-3 Working Day Shipping: Enjoy the convenience of free 2-3 working day shipping when ordered by 14:45 on a working day (please note longer delivery times to the Scottish Highlands, islands, and Northern Ireland).
Experience the next level of portable solar power with the EcoFlow 220W Bifacial Portable Folding Solar Panel – your reliable companion for off-grid energy needs.
Two years manufacturer's warranty
Detailed specifications:
Rated Power: 220W Front Side/155W Rear Side in Standard 1000w/m2 solar light
Open Circuit Voltage: 21.8V (Vmp18.4V)
Short Circuit Current: 13.0A (Imp 12.0A) Front Side/8.8A (Imp 8.4A) Rear Side
Efficiency: 22-24 %
Cell Type: Monocrystalline Silicon
Connector Type: MC4
Certification: PSE, CE, FCC, RoHS, IP67
Weight: 9.5kg
Unfolded Dimensions: 82 X 183 X 2.5cm

 A declaration of conformity for this product can be found here.
IN THE BOX:
220W Bifacial Solar Panel x 1

220W Bifacial Solar Panel Protective Case (Kickstand) x 1

220W Solar Panel User Manual x 1

Snap Hooks x 1
This product requires a quantity of 3 minimum.