EcoFlow 400W Portable Folding Solar Panel
---
Unleash Power Anywhere with EcoFlow's 400W Portable Folding Solar Panel
Discover the pinnacle of portable solar technology with the EcoFlow 400W Portable Folding Solar Panel, designed to complement EcoFlow power stations, including DELTA 2, DELTA MAX, and DELTA PRO. Here are the main features that set it apart: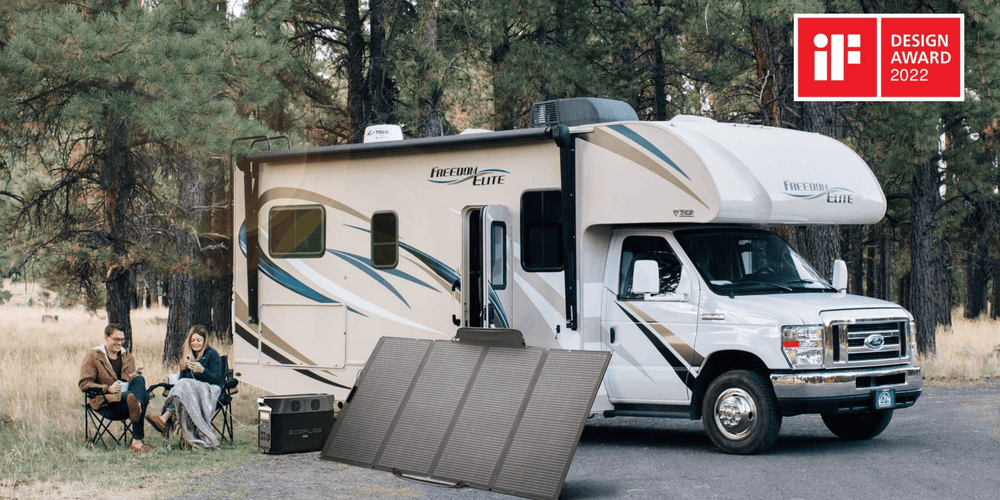 MAIN FEATURES
Portable & Lightweight:

With an impressive 400W input, it stands as one of the most powerful foldable solar panels available.
Weighing a mere 16 kg, its lightweight design, coupled with a built-in shoulder strap, caters to outdoor adventurers.
Self-supporting: The protective case transforms into a versatile stand, adjustable from 40° to 90°, facilitating optimal solar panel positioning.
Robust & Weatherproof:

Constructed from pliable EVA and robust fiberglass layers, it merges the flexibility of flexible solar panels with the durability of rigid ones.
Each monocrystalline silicon cell is shielded by an ETFE film, providing protection against dust, particles, dirt, and water.
Boasting an IP68 waterproof rating, it thrives in all weather conditions, making it ideal for camping and rooftop use.
Wide-ranging Compatibility: Featuring the universally recognized MC4 connector, it seamlessly interfaces with all EcoFlow DELTA Series portable power stations and numerous third-party generators.
Smart Solar Energy:

The EcoFlow 400W solar panel achieves an impressive 22.4% conversion efficiency.
Paired with an EcoFlow portable solar generator, it optimizes energy extraction using the Maximum Power Point Tracking (MPPT) algorithm, ensuring a consistent power supply throughout the day.
Two years' manufacturer's warranty.
Detailed specifications:
Rated Power:

 40

0W (±5W)

 

in Standard 1000w/m2 solar light
Open Circuit Voltage: 48V (Vmp41V)
Short Circuit Current: 11A (Imp 9.8A)
Efficiency: 22.4 %
Cell Type: Monocrystalline Silicon
Connector Type: MC4
Certification: PSE, CE, FCC, RoHS, IP67
Weight (with kickstand case): 19kg 
Unfolded Dimensions: 106.8 X 239.0 X 2.4cm
Folded Dimensions: 117 X 110 X 15cm (approx.)
A declaration of conformity for this product can be found here.
IN THE BOX
:
400W Solar Panel x 1




400W Solar Panel Bag x 1




400W Solar Panel User Manual X 1
This product requires a quantity of 3 minimum.