Enhanced Power Management: EcoFlow Backup Generator

The EcoFlow Smart Generator, is a highly sophisticated gas-powered generator that works closely with other EcoFlow products such as the Delta Pro battery station. It is an attempt to solve the problem of power outages lasting longer than a few hours which is the bane of battery-based power solutions.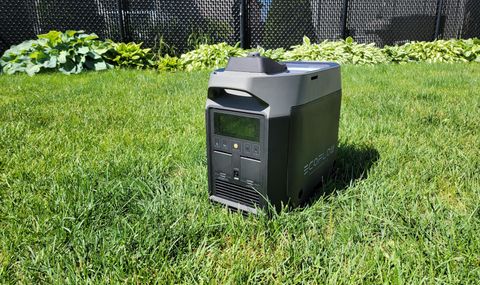 Features:
Backup for your Backup: Seamless integration with DELTA PRO, DELTA MAX (2000), DELTA MAX (1600), and DELTA 2 for extended blackout support or occasional use in lieu of an extra battery.
Efficiency at the Forefront: Direct DC charging, outclassing traditional gas generators for fuel savings and reduced charge time.

Charge & Power On-The-Go: AC output for device empowerment during emergencies while concurrently recharging the power station.

Intelligent Operations: Auto-start based on preset charge levels, app-controlled monitoring, and automated shutdown for an intelligent power management system.

Built for Emergencies, Ideal for Occasional Use: Superior fuel efficiency and minimal energy loss during DELTA Pro or DELTA Max charging, utilizing a straightforward and efficient DC charging process.
Versatility in Emergencies: Uninterrupted emergency power and simultaneous device empowerment through AC output while recharging with an extra battery.
Four Accessible Start Modes: Electric or manual initiation in close proximity.

App-triggered start for remote activation during emergencies.
Automatic start/stop functionality based on preset battery thresholds for enhanced efficiency.
Effortless Management with EcoFlow App: Full command over the EcoFlow Smart Generator via the user-friendly EcoFlow app. Customization of settings, including auto-start preferences during emergencies.
Optimized Emergency Power: Equipped with LCD screen, CO alert, fuel alert, and auto shutdown for comprehensive safety during power outages or emergencies.
Two years' manufacturer's warranty
Generator specifications:

Dimensions: 59.7*29.6*47.5cm / 23.5*11.7*18.7 in
Weight: 29.3 kg / 64.6 lbs
Type: Inverter generator
Frequency: 50Hz
Rated Power: 1800W (1900W peak)
DC Output Voltage: 42-58.8V
DC Current: 32A Max
Product dimensions: 59.7x29.6x47.5cm
Weight: 30.5kg 
Engine specifications:

Type: Single cylinder, four-stroke, forced-air cooling, overhead value
Displacement: 79.7cc
Fuel type: Unleaded gasoline
Fuel Tank Capacity: 4 L / 1.06 gal.
Engine Oil Capacity: 0.38 L / 0.1 gal.
Noise Level (at a 7m distance): 56~67dB (full load)
Continuous Working Time (Gas): 3.5 hrs (full load)
In the Box:
Smart Generator
Extra Battery Connection Cable
Oil Funnel
Screwdriver
Spark Plug Socket
Breaker Bar
Double-Ended Spanner
User Manual and Warranty Card
EcoFlow DELTA Pro to Smart Generator Adapter is sold separately. It is required to connect DELTA Pro to the Smart Generator. 
This product requires a quantity of 3 minimum.